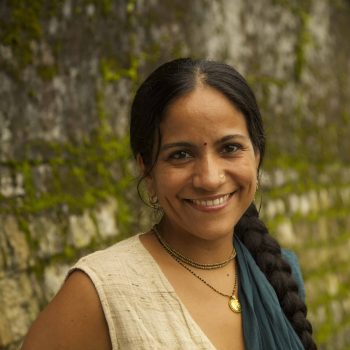 Āyurvedic Practitioner
Food as Medicine
Having a keen interest in healing plant medicines and yogic lifestyle, Tess naturally leaned toward the holistic science of Ayurveda early on.  By incorporating these ways in her own life and seeing profound results, she took this as her path of service and life practice to share with others.
Tess began her study in Ayurveda and Western Herbalism in 1998 and later in Tibetan Medicine. With a traditional approach rooted in the classical Ayurvedic texts, Tess has spent many years training with traditional teachers in India and the US, including advanced studies in Ayurvedic theory and clinical practice with senior Vaidyas (Ayurvedic doctors) from Punarvasu Prabodhini in Pune, India.
Tess has also worked as a main therapist for 4 years in a Pancha Karma retreat center, which gave her valuable experience treating her patients with focused attention and care. She is a skilled practitioner of external therapies and teaches Ayurvedic Body Therapies to existing students of Ayurveda.
Within the modality of Tibetan Medicine, Tess completed a four-year study with the Sorig Institute under the guidance of her teacher Dr. Nida Chenagtsang and other accomplished Tibetan doctors. Â In Tibet, she joins yearly study programs incorporating clinical work treating patients in a remote regional hospital with Tibetan Medicine and external treatments.
Since 2004, Tess has held a private practice in Nevada City, CA, founding the Gunanatha Clinic with her husband Eric Rosenbush, incorporating Ayurveda and Tibetan therapies, as well as organizing clinical events and teachings. She has assisted low-cost clinics providing traditional medicine to chronically afflicted patients. Â She is now working as a practitioner at the Samata Clinic in Northern Goa, and also manages the Amrita Kitchen, serving healthy, nourishing food.
Tess is an active member of the Dunagiri Foundation.  This enables her to do what she loves- spending time working in Himalayan villages with farmers and high altitude plant medicines during the year when she is not in Goa or abroad.